[under construction]
華夏 Huáxià  – Cathay (契丹 Qìdān) – 中土 Zhōngtu
---
'Sean Golden' in Chinese
Sean Golden –> 肖恩.戈尔登 Xiào'ēn Gē'ěrdēng (official police transliteration).
"Golden" –> 戈尒登 Gē'ěrdēng (standard police name on documentation).
Because 戈 gē is a weapon, Chinese colleagues preferred 高尔登 Gāo'ěrdēng (高 gāo means 'high, tall, etc.').
In an article published in 1982, 王佐良 Wáng Zuǒliáng quoted comments I made at a James Joyce Symposium in Dublin that year, transcribing me as 旭恩·哥尔登 Xù'ēn Gāo'ěrdēng, still another version.
Because these transliterations sounded obviously foreign in Chinese, some writer friends proposed transliterations that could sound like authentically Chinese names.
The poet 芒克 Máng Kè (from Arthur Waley's Monkey, a translation of 西游記 Xīyóu Jì, pseudonym of 姜世伟 Jiāng Shìwěi) proposed 高盾 Gāo Dùn ('high' or 'strong' 'shield', because I helped dissident poets by participating in their translation into English and getting them international recognition by being published outside of China).
The poet 杨炼 Yáng Liàn disliked the use of 盾 dùn 'shield' because it is also a weapon, and proposed 高遁 Gāo Dùn ('high' 'escape', same pronunciation as 高盾 Gāo Dùn) because it alludes to the 成語 chéngyǔ (set phrase) 遁入空門 dùnrùkōngmén 'escape through the gate of emptiness' (become a monk).
'Golden' taught literature in English for Chinese students and writers and translated "Mang Ke" and "Yang Lian" (and others) into English.
"Golden" –> 戈尒登 –> 高尔登 –> 高盾 –> 高遁 –> a personal experience of being "the Other"; a form of Orientalisation.
---
Cathay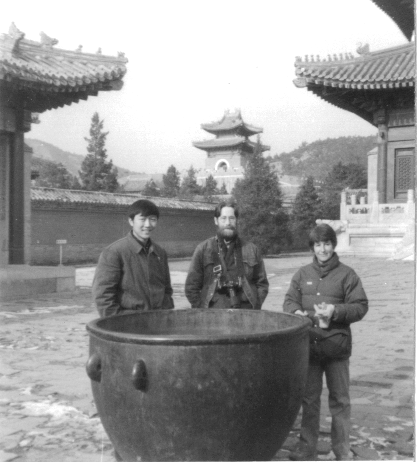 Eastern Tombs 1981-1982
---
New China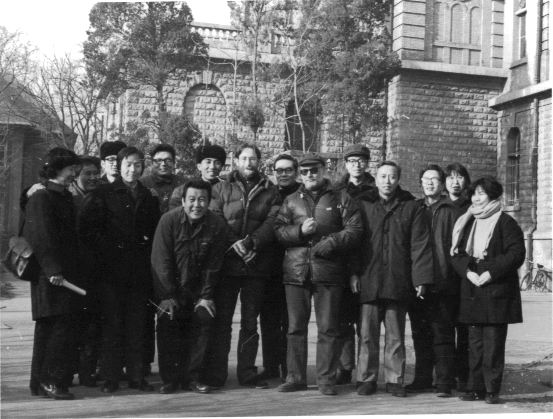 天津外国语语言学院 1981-1982